Tent Rental Packages
Looking for a simple way to rent all of the basics for an outdoor wedding? Check out our wedding packages that include everything you will need whether you are having 50 or 250 people.  Packages include tent, basic lighting, tables, chairs, and dance floor.
***Ask about any other specials we are currently offering!***
50 Person         75 Person         100 Person         125 Person          150 Person        200-240 Person
Call about larger packages
*Wedding Tents are priced for tent being on grass and being able to be staked into ground.  Tax, optional damage waiver, and delivery charge not included in package prices.
Optional Upgrades for All Packages: Upgraded chairs, linens, lighting, and draping.
(Click on above link to open CAD diagram of this tent)

30×40 Frame Tent
Globe Lighting for perimeter of tent
12×12 Cedar Snap-lock Dance Floor w/ Subflooring
6 5′ round tables
1 5′ half round table
1 3′ round table (cake)
1 8′ rectangular table (Food)
2 6′ rectangular tables (DJ and Behind Bar)
1 6′ rectangular bar setup (includes skirts)
50 Basic White Folding Chairs
Linens Add-On:
Client may choose any color from our poly solid collection
7 120″ Round Linens (Floor length on Guest Tables and sweetheart table)
1 96″ Round Linen (Floor length for cake table)
1 90″x156″ Linen (Floor length for food table)
2 90″x132″ Linens (Floor length for DJ table and table behind bar)
50 Poly Napkins

(Click on above link to open CAD diagram of this tent)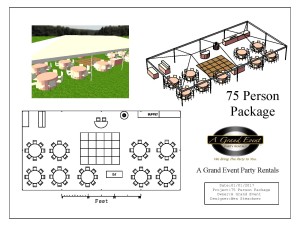 30×60 Frame Tent
Globe Lighting for perimeter of tent
12×15 Cedar Snap-lock Dance Floor w/ Subflooring
9 5′ round tables
1 5′ half round table (Sweetheart)
1 3′ round table (Cake)
2 8′ rectangular tables (Food)
2 6′ rectangular tables (DJ and behind bar)
1 6′ rectangular bar setup (includes skirts)
75 Basic White Folding Chairs
Linens Add-On:
Client may choose any color from our poly solid collection
10 120″ Round Linens (Floor length on Guest Tables and sweetheart table)
1 96″ Round Linen (Floor length for cake table)
2 90″x156″ Linens (Floor length for food table)
2 90″x132″ Linens (Floor length for DJ table)
75 Poly Napkins

(Click on above link to open CAD diagram of this tent)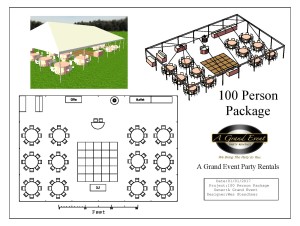 40×60 Frame Tent
Globe Lighting for perimeter of tent
15×15 Cedar Snap-lock Dance Floor w/ Subflooring
12 5′ round tables
1 5′ half round table (Sweetheart)
1 3′ round table (Cake)
2 8′ rectangular tables (Food)
3 6′ rectangular tables (DJ, behind bar, gifts)
1 6′ rectangular bar setup (includes skirts)
100 Basic White Folding Chairs
Linens Add-On:
Client may choose any color from our poly solid collection
13 120″ Round Linens (Floor length on Guest Tables and sweetheart table)
1 96″ Round Linen (Floor length for Cake Table)
2 90″x156″ Linens (Floor length for food table)
3 90″x132″ Linens (Floor length for DJ table)
100 Poly Napkins

(Click on above link to open CAD diagram of this tent)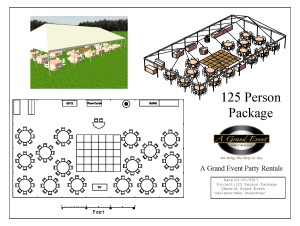 40×70 Frame Tent
Globe Lighting for perimeter of tent
15×18 Cedar Snap-lock Dance Floor w/ Subflooring
16 5′ round tables
1 5′ half round table (Sweetheart)
1 3′ round table (Cake)
2 8′ rectangular tables (Food)
4 6′ rectangular tables (DJ, behind bar, gifts, place cards)
1 6′ rectangular bar setup (includes skirts)
125 Basic White Folding Chairs
Linens Add-On:
Client may choose any color from our poly solid collection
17 120″ Round Linens (Floor length on Guest Tables)
1 96″ Round Linen (Floor length for cake table)
2 90″x156″ Linens (Floor length for food table)
4 90″x132″ Linens (Floor length for DJ, behind bar, gifts, and place card tables)
125 Poly Napkins

(Click on above link to open CAD diagram of this tent)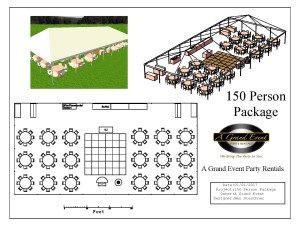 40×80 Frame Tent
Globe Lighting for perimeter of tent
18×18 Cedar Snap-lock Dance Floor w/ Subflooring
18 5′ round tables
1 5′ half round table (Sweetheart)
1 3′ round table (Cake)
3 8′ rectangular tables (Food)
4 6′ rectangular tables (DJ, 2 for behind bars, gifts)
2 6′ rectangular bar setups (includes skirts)
150 Basic White Folding Chairs
Linens Add-On:
Client may choose any color from our poly solid collection
19 120″ Round Linens (Floor length on Guest Tables)
1 96″ Round Linen (Cake table)
3 90″x156″ Linens (Floor length for food table)
4 90″x132″ Linens (Floor length for DJ, behind bars, and gift tables)
150 Poly Napkins

(Click on above link to open CAD diagram of this tent)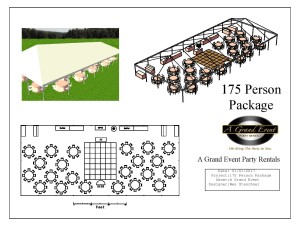 40×90 Frame Tent
Globe Lighting for perimeter of tent
18×21 Cedar Snap-lock Dance Floor w/ Subflooring
22 5′ round tables
1 5′ half round table (Sweetheart)
1 3′ round table (Cake)
4 8′ rectangular tables (Food)
4 6′ rectangular tables (DJ, 2 for behind bars, gifts)
2 6′ rectangular bar setups (include skirts)
175 Basic White Folding Chairs
Linens Add-On:
Client may choose any color from our poly solid collection
23 120″ Round Linens (Floor length on Guest Tables)
1 96″ Round Linen (Cake table)
4 90″x156″ Linens (Floor length for food table)
4 90″x132″ Linens (Floor length for DJ, behind bars, and gift tables)
175 Poly Napkins

(Click on above link to open CAD diagram of this tent)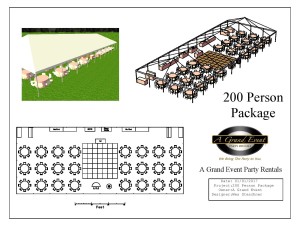 40×100 Frame Tent
Globe Lighting for perimeter of tent
21×21 Cedar Snap-lock Dance Floor w/ Subflooring
24 5′ round tables (Guest tables)
1 5′ half round table (Sweetheart)
1 3′ round table (Cake)
4 8′ rectangular tables (Food)
5 6′ rectangular tables (DJ, 2 for behind bars, gift, place cards)
2 6′ rectangular bar setup (includes skirts)
200 Basic White Folding Chairs
Linens Add-On:
Client may choose any color from our poly solid collection
25 120″ Round Linens (Floor length on Guest Tables)
1 96″ Round Linen (Floor length for cake table)
4 90″x156″ Linens (Floor length for food table)
5 90″x132″ Linens (Floor length for DJ table)
200 Poly Napkins