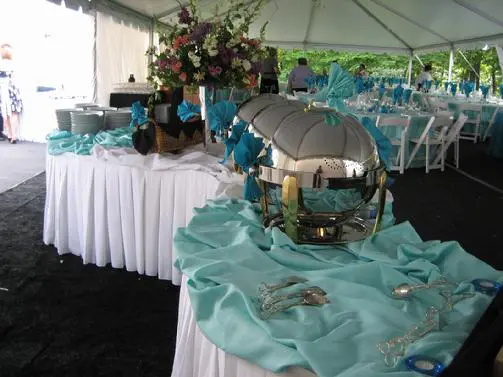 The image you create during your wedding remains engraved in the minds of many people for a long time; therefore, you need to work hard and ensure that you create a positive image. One of the best ways of doing this is by decorating your wedding tables the right way. To help you out here are ideas on how to decorate wedding table:
Fishbowls
Fishbowls are great when you are having a beach or nautical themed wedding. You should put 1-2 gallon fishbowls on each table and then add water and fish to the bowls. For a great look you should ensure that the fish match the wedding color or theme.
There are a number of wedding rental companies that provide the fishbowls and fish for a fee; therefore, you don't have to go through the hassle of buying the bowls and fish and you will be using them for only one day.
Candelabras
Candles have been used in weddings for a long time and you shouldn't shy away from using them. Instead of going the traditional way of placing a candle on the table, you should consider going the extra mile and buying or renting large candelabras from a rental company.
The main function of the units is to display the candles. For a great look you should ensure that the style and color of the candelabra and candles is consistent with the wedding color and theme.
Fruits and flowers
Fruits and flowers greatly brighten your table and at the same time add a great scent. There are many ways that you can present the flowers. For example, you can arrange them in a tall vase and add water to keep them alive.
When it comes to fruits, you can place the whole fruit in a clear bow or slice them and put them in a vase full of water. To keep up with the theme of the wedding you should ensure that the colors of the flowers and fruits matches the theme. Some of the best flowers that you should go for are: lemons, oranges, apples and limes.
Conclusion
These are ideas on how to decorate your wedding table. To have an easy time you should work with a party rental company. The company will not only provide you with the wedding rental tables and decoration items, it will also help you with placing the embellishments at the right place. As rule of thumb you should work with a reputable and experienced company.