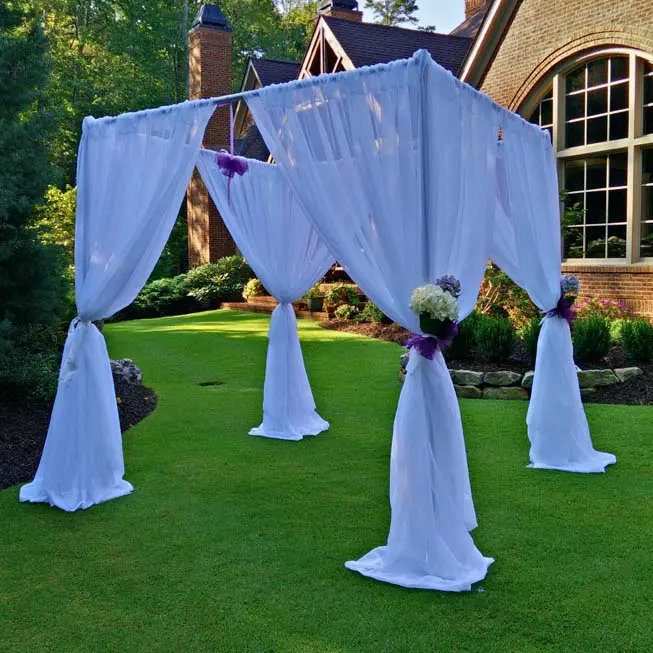 A Chuppah is a traditional Jewish wedding canopy that represents the home to the new bride. The canopy is usually one of the key elements of the wedding; therefore, you should ensure that it looks the best. You can easily give it a great look by decorating it. Here are some of the ways in which you can decorate your wedding Chuppah:
How to decorate a Chuppah
Flowers: flowers give your wedding canopy bright energy. There are many ways in which you can use the flowers. For example, you can use them as simple bouquets where you tie the Chuppah fabric with them. If you are doing your wedding outdoors, you should entwine the flowers with natural branches.
Lights: just like flowers, there are many ways in which you can decorate the Chuppah with lights. If you want to create a subtle look, you should position the lights within the fabric at the base of each pole. To create a brilliant look, you should use tiny white lights within the fabric. You should install the lights on the posts and on the canopy of the Chuppah.
Ribbons: ribbons are ideal for adding color and movement on your Chuppah. For a great look, you should ensure that the ribbons are long enough to catch the breeze. You should also ensure that they are ½-2/3 the length of the Chuppah pole.
If you like a simple look you should go with ribbons of one color. To create an exciting look you should combine ribbons of different colors. When doing the Chuppah decoration you should ensure that the colors compliment the theme of wedding.
Crystals: crystals twinkle thus giving your wedding canopy a luxurious look. To decorate the Chuppah you should place a sheer fabric over the top of the Chuppah and then drape the crystal strands from the top edge of the canopy to the posts. You should ensure that the crystal strands resemble curtains.
Conclusion
These are tips on how to decorate your wedding Chuppah. If you are unsure of how to decorate the Chuppah, you should consider hiring a wedding party expert to help you with the decorations.
Since you will be using the canopy only once, it's wise that you rent it from a wedding party rental company. To be sure that you are working with professionals, you should ensure that you do background checks.