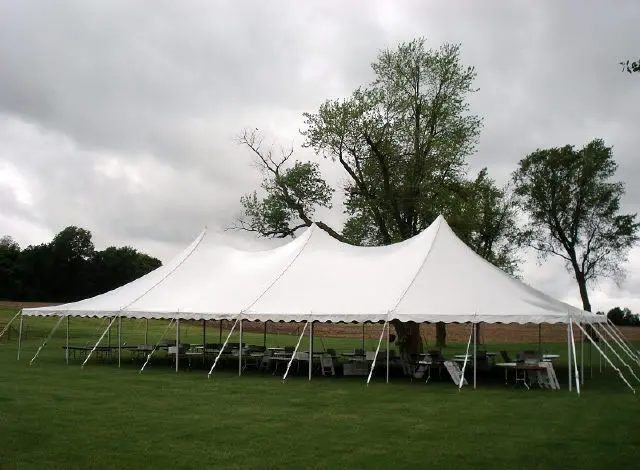 Beautiful foliages, mountains, glistening environment and water bodies are among the main reasons for an outdoor wedding. Regardless of the location, it is advisable to reserve a tent from tent rentals to make sure that the guests are well protected from extreme cold, the sunshine and chilly nights. When shopping for a tent, the process might seem straightforward. Many people think that all they need to do is call a party rental company and the company will recommend the best tent. Far from this. To get the right tent you need to consider a number tips:
Tips to consider when renting a wedding tent
Type of tent: There are many types of tents in the market that you can go for. Pole tents are the traditional tents and preferred by many people due to their ease of installation.
Where you will place the wedding tent: Tents can be placed on different surfaces such as grass, asphalt, wood deck and tennis court. Different tents are ideal for different surfaces. To get the right tent, you should visit the wedding venue and survey the condition of the surface.
Dimensions of the tent site: As I have mentioned a countless number of times here on this blog, wedding tents come in different sizes. To get the right tent you should inspect and measure the size of the venue in order to rent the right sized unit.
Type of food service: For the health of the guests, it's recommended that you serve the food inside a tent. Buffets, plate meals, and cocktails all require a different tent setting, configuration, and spacing. Your type of service will greatly affect the type of tent that you should get.
Accessories that need to be covered by the tent: You can use the tent to cover different things including: caterer's prep station, dance floor, and DJ table. If you have many things that need to be covered you should get a bigger tent and vice versa.
Rental wedding tent options
There are many wedding tent options that you can go with. They include:
40 x 60 pole tent: Pole tents offer clean lines with no obstructions such as cables and pipes. This pole tent can hold 5round tables and provides adequate space for guests to move around. It can also include a small dance floor and bar area.
40 x80 pole tent: The layout of this tent features 800 square feet which are ideal for a larger dance floor and added space for cake, gifts and card tables.
44 x 83 sail cloth tent: Sailcloth tents are the latest rage in wedding tents. They are made of thin sailcloth material through which light can pass through. The filtered sunlight provides a brighter interior and at night, the tent appears to glow from outside. Due to its oval shape, the sail cloth tent offers a natural location for buffets and a bar area room for any extras.
Conclusion
There are many types of party tents that you can go for. All you need to do is ensure that you get the tents from reputable wedding tent rentals.