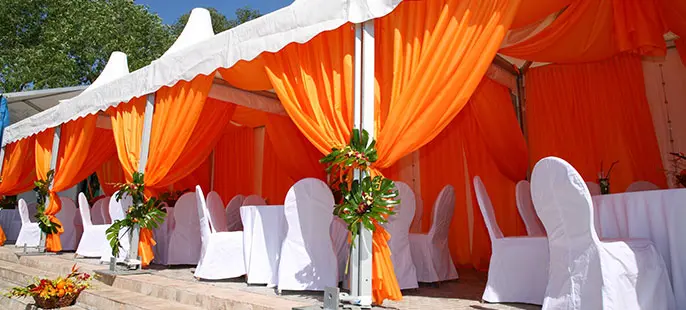 Pop-up tents are popular party-hosting shelters that are known for their ease in setup and take-down. The manufacturers say that you can set the tents in 3-10 minutes. This is made possible by the easy to disjoint parts found on the tents.
The tents are usually made from high quality aluminum or steel which ensures that they are durable. They are also usually powder coated in order to withstand adverse weather.
How to rent a pop up tent
The tents come in different sizes; therefore, you should rent the one that is ideal for you and guests. If you are organizing a corporate party, you should go with a large corporate tent. In addition to the pop-up tent being elegant during your party, it also aids in promoting your business.
Guide on how to set the tents
Just like the tents come in different sizes, they also come in different styles. For example, there are some that come with an already assembled and attached pole structure that rests at the top of the tent. This tent style resembles that of a traditional dome tent, but requires less work to set up. To erect the tent you need to remove it from its pouch and completely unfold the material until the bar structure is exposed and faces upward. You should lift the bar from the center and the tent will snap into position.
Another style that you can go with is the twist and snap tent. This one comes folded in a circular pouch. To set it up you only need to unfold it.
Pop-up canopies
Pop-up canopies are larger than tents and are great for organizing parties. To set it up you need to place the metal frame upright and open it gently open it like an accordion. You should then unfurl and place the canopy cover over the partially extended frame and center it.
You should then open the frame while taking care that you don't injure yourself from the pinching action of the accordion bars. Once in place you should adjust the legs to your desired height.
Conclusion
This is what you need to know about the pop up tents and canopies and how to set them. You should note that the tents are expensive; therefore, if you are having a one day event, its wise that you hire them from a tent rental company. The cool thing with hiring the tents is that the company will not only give you the tents, it will also help you in setting them up.